Ok Here is one photo from the race event. I will put a complete story and photos up soon.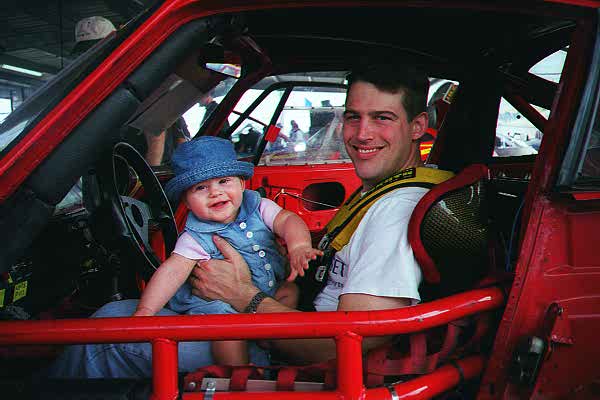 Prior to race:
We're back!!! Most of the drivers and crew from last year are reunited to try our luck again. The ESPN2 live schedule is at the bottom of this page.
Here is a short description of what has happened since the beginning of January:
TESTING Weekend
1/8/99 FRIDAY
Ahh, Daytona again. The weather is nice and warm compared to Boston. Familiar faces on our team and in the garage and paddock areas.
1/9/99 SATURDAY
Off to a good start...
9:00 AM First test session. Jim Nelson went out first, then me. As I buckled myself in, everything immediately came back to me. I checked the fuel pump switch (both the regular and reserve pump need to be on). Checked for neutral, checked ignition (on), pushed the starter button. Brappp, Rumm, Rumm! I can hear the muffled roar through my ear/radio plugs. Yup, I remember. Radio check...adjusted volume down. Clutch in, first gear, clutch out. I'm on my way down pit lane. Pit lane is BIG: not only is it long, but it is wide.
The session was a good one. The car felt very stable at speed on the banking and in the corners in the infield. It also stopped and accelerated well. Could it be that easy? The only problem seemed to be a crunching sound that I felt through the gear shift knob while shifting into 5th gear. It seemed like the 5th gear synchro was going bad. Will it last the weekend?

1:00PM Second Session.
After lunch we went out again in the same order (Jim Nelson, Me, John Drew, and Mark Greenberg). All of us did well. Each one of us went faster this session than we had done all last year. The combination of better tires and our experience from last year was the major reason for the improvement. The car had also been setup according to last year's setup specifications which took 3 days and MANY laps to figure out. Jerry Pellegrino and the team at European Performance Engineering (EPE) had done a great job preparing the car. Unfortunately the 5th gear synchro got even worse and by the end of my session I was losing 5th gear-the shifter kept popping out when I let off the gas. When John came back in from his laps he said that he needed to manually hold it in 5th gear for it to stay. The decision was made to change it prior to the evening practice.
Here are some pictures:







I do not have many pictures from the test weekend because the weather was bad, my camera broke, and we crashed the car on the morning of the second day. The car looks almost the same as last year. If you would like to see pictures from last year click here, this page is graphic intensive!
6:00PM The rain was upon us.. it was dark and rainy. No one wanted to go out with the heavy rain. It made sense, we had two more full days of practice and another night practice. We also had no wiper installed on our car. The 18 car of David Freedman was having setup changes done to it. David was unhappy with the way it was handling.
It was a long day and the crew worked hard all day long 8:00 AM till 9:00 PM (when we were kicked out of the garages. We ended the day looking forward to Saturday and another opportunity to turn even better times than today. We knew that each one of us could squeeze another half or full second off the time we posted today.
1/10/99 SUNDAY
A Cold start to a BAD morning.
9:00 AM First session. It had been raining most of the night and it was COLD. There were puddles all over the track and it was cloudy and overcast but not raining. Jim was up first. Then Jerry signaled me to get ready. I was not ready to get in the car. I knew that no matter what I did there was no possible way I could turn a "fast lap" and that pushing under these conditions was not fun and could be a possible risk. I love driving in the rain. I was cold, I wanted to wait till I was warmer and the track was warmer and dryer. I also know that Jim Nelson was leaving today and that Mark, John, and Myself would be able to do as many laps as we would want to do on Monday. So... I told John to go out. Jim and Him use the same seat setting so it would be any easy drivers change. Jim comes in and John goes out. Jim tells us that it's very slippery and that he spun going into turn 1. He said that he ended up over by turn 6 and then continued on. 4 or 5 laps into John's session David Webber tells us there is a yellow flag out and a black flag all (means everyone has to come in). Next thing I see is a car coming down pit lane with no fenders and a crunched front end.... is that OUR car? Oh No, it is our 01 car. John brings it to a stop right in front of all of us. Were all just staring at it.... the car is spewing oil all over the pavement in front of us. half the team jumps over the wall to start pushing the car back and out an exit right next to our pit stall. John is fine, a little upset but fine.
Well that ended our weekend. Mark, John and I got on the next plane back to Boston. All of us wondering if we were going to be able to compete in our 01 car.
1/11-24/99
Can the team do it??
Not only does the planned maintenance between practice and the race need to be done but we now have major body damage and parts damage to fix. This week and a half are hectic. The car needs to be disassembled. All the broken parts need to come off and new ones need to ordered. The fuel cell comes from California the brake system comes from the Midwest. The body panels come from the southeast but still need to be painted. The oil coolers EPE has in stock. The logistics for getting the parts shipped in time to be installed in the right order are a challenge. FedX, UPS, Airborne, and other various ground transportation companies drop off new parts almost everyday. The body work begins after the disassembly takes place. The body panels need to be pulled back and new sheet mental and structural components are welded back onto the unibody. It then gets painted (red).
1/20/99 Wednesday
The 01 car body work has been finished. Now EPE needs to reassemble the car which now has a straight front end.

1/23/99 Saturday
Our 01 car needs some work on the setup and it proves to be difficult because a couple of the suspension parts need to modified (ground down) to make the car sit at the same height and corner weight that our setup sheets require for the "right" setup. The 18 car has had its motor completely rebuild (planned) and installed. But for some reason it wont start. It's late and everyone is tired at EPE.
1/24/99 Sunday
The 18 car starts! Yahoo (do you yahoo?) However it does NOT sound good. Sunday night I stopped by the shop after 9:00PM and saw the motor on the floor and many of the motor parts including the pistons on a table near the motor. Oh No!
The trailer is supposed to be picking everything up Monday morning.
1/25/99 Monday
Jerry and the team at EPE do an incredible job and both cars, all the spares, tools, and equipment are loaded on the trailer and the trailer leaves around 7:30 PM for Daytona.
1/28/99 Wednesday
Drivers and a small number of crew are going to Daytona for the Thursday Test day.
1/29/99 Thursday
The test sessions start first thing. The rest of the team will show up in the evening.
When I get back I'll do a race weekend report. I will also post the pictures from the race weekend.
**********************
TV Schedule:
Television: ESPN2 (Live):
Saturday, Jan. 30 12:30 p.m. - 1:00 p.m. "On the Grid"

Saturday, Jan. 30 1:00 p.m. - 4:00 p.m. Start of 37th Rolex 24 At Daytona

Sunday, Jan. 31 7:00 a.m. - 1:30 p.m. End of 37th Rolex 24 At Daytona
Times listed are Eastern Standard Time